Contact us at [email protected] with any other questions.
Amenities
Chalets have Satellite TV/DVD, Cell and WI-FI Internet service.
The chalets all are the same quality and each contain the following amenities:
Fully equipped
kitchens, just bring your food.  We provide tableware, cooking utensils, coffee
maker, mixer, blender, stock pot, baking pans, waffle iron, colander,
rice cooker, crock-pot, etc.
We stock tea, coffee,
sugar, creamer and sweeteners.  There are some spices and condiments
usually left in the chalets by other guests but are not regularly stocked.
All linens, towels and paper products are provided.
Septic safe soaps, dish and laundry detergents are supplied. ONLY USE THOSE PROVIDED.
Septic system means don't flush anything but toilet paper and waste down the toilets. You'll regret it.
You will want to bring:
 Flip-flops for getting to the hot tub

Real swim suits (or nothing – your discretion)

Sleep masks for the Mid-night Sun (you may need them even with the blackout shades provided).
Chalet Contents
Each chalet has:
Shades on all bedroom windows (but you still may need sleep masks).
Cell service (check your provider for roaming in Alaska)
Views
Each chalet has great views! (seriously, it doesn't make a difference which chalet you're in) There are mountains all around, and lake views! As Grandma Steele says: "Every window is a picture!"
Wildlife
Bears! They wander through once or twice a summer.
Privacy
Each chalet is private and secluded, with it's own hot tub.
The chalets share five acres and are within walking distance of each other- so you can rent more than one!
Check In/Out
CHECK-IN TIME IS AFTER 4 P.M. AST AND CHECK OUT
IS 12 Noon AST.
Early check-ins and late check outs by prior arrangement only.  Please do NOT arrive early without prior approval! Additional fees may apply.
Food
Stock-up on food in Anchorage or Seward. Estes Bros grocery in Moose Pass is open 9-7 (summer) seven days a week, but has limited inventory and only accepts cash.  There is a ATM near the store. Nearby Trail Lake Lodge has a restaurant and bar with satellite TV.
Mosquitoes
Yes! There are mosquitoes and flies in Alaska. Good news is our mosquitoes don't carry diseases. How many you'll encounter depends on many variables. You'll probably want bug repellent at some time during your trip.
Excursion Booking
Need help with what to do and see while you're in Alaska?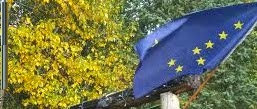 Fishing Information
Lake access is easy walking distance down the hill. Canoes and kayaks are available for use.
You can fish in the lake, but better fishing is nearby. Please check out the regulations before you come:
http://www.adfg.alaska.gov/index.cfm?adfg=SportByAreaSouthcentral.main
We do not stock fishing gear at the chalets. Sometimes fishing gear is left by other guests.
Guides
will have all the gear you will need and can take you to where the fish
are. Guides will also show you what tackle to use, and how to catch the fish. They
also will clean the fish for you and help you ship it (fish cleaning is not permitted at the chalets as you do not want to attract bears).
Unless you are an experienced Alaskan fisherperson, a guide is suggested.
There is a separate freezer at the chalets for fish storage. Please see the hosts.
We do not recommend particular guides. Please look at our Trip Planning guide for more information.
We're centrally located to all the great, world-class fishing on the Kenai Peninsula.
Unless you've been here before and have learned how to fish in Alaska (and know all the regulations!) you'll want a guide. ASF&G statistics are that with a guide you'll catch a fish in one day- without a guide it takes two days.
And the guides have all the gear you need, and will even clean the fish for you!!!
The following types of fish are available in the area:
Kenai River – Kings (hopefully!), Reds & Silver salmon and World Class Rainbow Trout
Hike in Lakes – Grayling, Arctic Char, Rainbows
Saltwater Fishing – Halibut, Salmon, Rockfish, etc.
For assistance with fishing plans visit www.8staralaskaadventures.com
Saltwater Fishing Out of Seward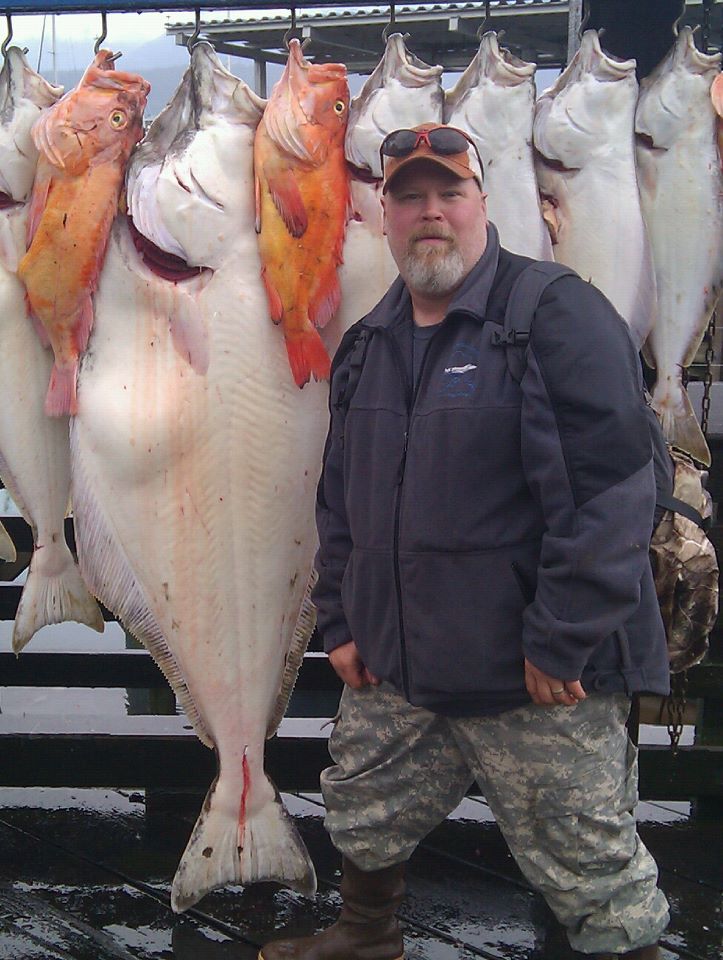 Steve lands a 132 pounder this trip.
Halibut, Salmon, Rockfish, etc.
Fishing the Crescent Lake
Fishing the Russian River